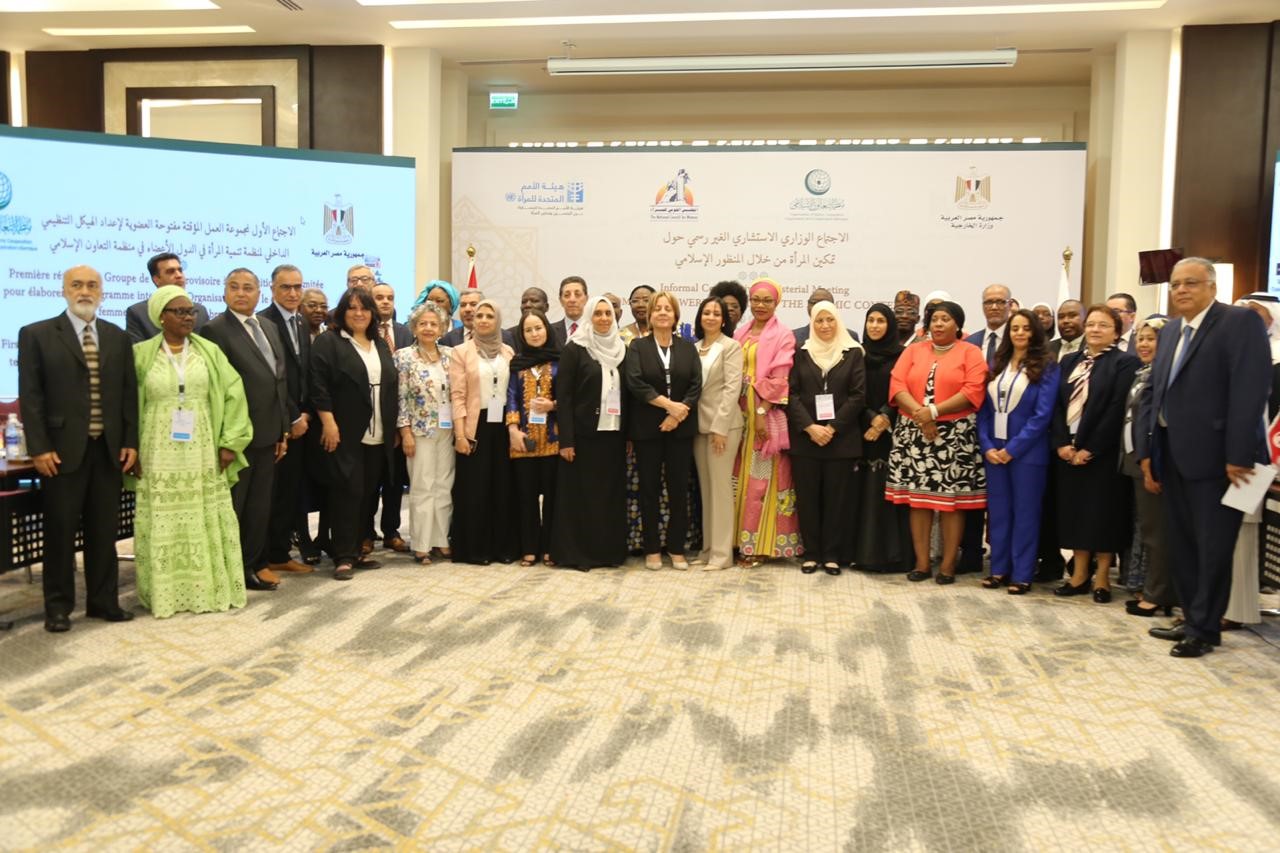 OIC Member States affirm support for women empowerment in Cairo
19/06/2019- The open-ended interim working group for preparing the draft statute of the Women Development Organization in the Member States of the Organization of Islamic Cooperation (OIC) concluded its work on 16 June 2019 followed by the Ministerial Round Table on "Empowering Women in Member States" on the next day. The delegations of the OIC Member States affirmed their support for the Women Development Organization to commence its operations and the importance of coordinating efforts to meet the challenges that impede the advancement, empowerment and participation of women in development. Egypt hosted the two meetings, organized by the Egyptian Ministry of Foreign Affairs and the National Council for Women, in the presence of women ministers and experts from the OIC Member States, ambassadors and representatives of the United Nations Women.
The Ministerial Meeting was chaired by Burkina Faso, Chair of the Seventh Ministerial Conference on Women, represented by Mrs. Helen Marie Lawrence, Minister of Women, National Solidarity and Family who noted that the OIC pays special attention to human capital, especially women, for her pivotal role in and support for social inclusion. She explained that the OIC Women Development Organization, which will soon come into force, aims to promote the social, economic and political rights of women within the OIC Member States, calling on Member States that have not ratified the Statute of the Organization to accelerate ratification.
Amb. Hisham Yousef, the OIC Assistant Secretary General for humanitarian, Cultural and Social Affairs said that the convening of the roundtable at the ministerial level following the meeting of the working group to draft the statute of the Women Development Organization confirms the importance that Egypt attaches to the issues of advancement of women and the role of the Women Development Organization.
In a related context, the participants in the meeting of the interim working group discussed the preliminary draft of the internal organizational structure of the Women Development Organization in preparation for submission to the Organization at the start of its work.
It is worth mentioning that the Arab Republic of Egypt announced it would host the Islamic Ministerial Conference on Women in 2020.
Source: https://www.oic-oci.org/topic/?t_id=21880&t_ref=12814&lan=en