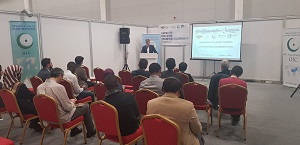 NGO Capacity Building Training
15 October 2018- SESRIC, in collaboration with Corporate Governance Academy (KYA) and The NGO World Foundation organized an NGO Capacity Building Training on 17-18 November 2018 at Yenikapı Eurasia Culture and Art Center in Istanbul, Turkey on the sideline of the Third International NGO Fair.
The NGO Capacity Building Training included seven sessions including a practical training on the subject of applied project-management and human resources management of NGOs. Participation was open to all managers, staff and volunteers of NGOs. English-Turkish simultaneous translation was provided.
Organized by The Union of NGOs of the Islamic World (UNIW), the Third International NGO Fair included workshops aiming for a consultative ground between the NGOs. The members shared their audio-visual media in addition to documents that presented their activities such as brochures, booklets etc. prepared in Turkish, Arabic and English with both participating NGOs and visitors.
For more information on the Fair, please visit the official website.
Source: http://www.sesric.org/activities-announcements-detail.php?id=455