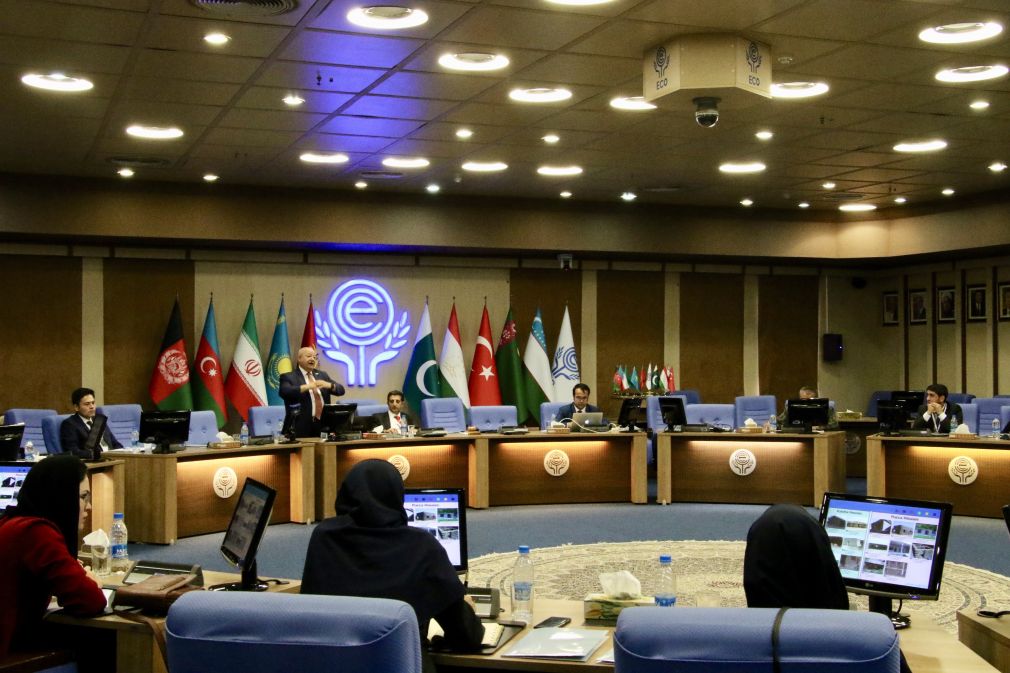 ECO- UN Habitat Workshop on Urban Resilience, Habitat Improvement, Disaster Risk Management and Built Environment
The ECO Secretariat jointly with UN Habitat office in Tehran, organized a four days' workshop on "Urban Resilience, Habitat Improvement, Disaster Risk Management and Built Environment" for ECO Member states. The workshop was held at ECO Secretariat in Tehran from 11 to 14 November 2018 while about 40 participants from Islamic Republic of Afghanistan, Islamic Republic of Iran and Republic of Tajikistan attended it.

In the opening session Ambassador Mr. Huseyin Avni Bicakli, Deputy Secretary General of ECO, highlighted ECO activities and commitments on reducing disaster risks. He emphasized that disasters are a major contributor to entrenched poverty in low- and middle-income countries attempting to recover from extreme weather events amplified by the effects of climate change.

Mr. Bicakli also extended his gratitude to UN Habitat office in Tehran for co-organizing this workshop and added that HABITAT has been one of the potential partners for ECO and mentioned also that a UNESCO-Habitat Project on Seismic Hazard and Risk Analysis focusing on 4 ECO Member States, namely, Afghanistan, Iran, Pakistan and Turkmenistan has been jointly done before. He also highlighted that the ECO Secretariat has been pursuing cooperation and partnerships with potential relevant regional and international stakeholders with a view to sharing technical and other assistance and resources.

Mr. Siamak Moghaddam, head of UN Habitat office in the Islamic Republic of Iran also underlined that the Habitat approach is to strengthen urban resilience as a key determinant for ensuring the effectiveness of response interventions during times of crises and subsequent sustainable development is embodied in its programmes. He added that since 2010., UN Habitat has a close collaboration with ECO for promoting sustainable development and mitigation of disasters in all its forms, in the region.

H.E. Mr. Haidari, Honorable Deputy Minister of NDMO of the Islamic Republic of Afghanistan who headed the delegate of his country, called on for more effective cooperation to reduce and manage the risk of natural and man-made disasters. He also expressed that his country expects more attention and support from neighboring countries and ECO member states as well as international organizations to accelerate its activities in this field.

The Joint workshop on "Urban Resilience, Habitat Improvement, Disaster Risk Management and Built Environment" concluded with remarks extended by Ambassador, Bicakli, Deputy Secretary General of ECO and Mr. Moghaddam, head of Habitat Office in Tehran. The co-chairs appreciated the three-day deliberations and commended the valuable sources of information received from the statements and reports presented at the meeting and the outcomes of the breakout group discussions.

In the certificate awarding ceremony the participants also extended their thanks to the ECO Secretariat and Habitat office for organizing this workshop while expressed their hope for continued organization of these workshops for relevant decision makers, education sectors and stakeholders dealing with Disaster Risk Reduction.

The participants also paid a visit to some historical building which are retrofitted and re-generated by Municipality of Tehran and Habitat.
Source: http://www.eco.int/news/87268-ECO-UN-Habitat-Workshop-on-Urban-Resilience-Habitat-Improvement-Disaster-Risk-Management-and.html?t=News